Hi there! Thanks for visiting! My name is Mary, and this is my page. :)
First, a little about me. Born and raised in Albany, NY, I had an absolutely wonderful childhood. My mother stayed at home after my brother and I were born and my father worked for the state of New York. I was always involved in sports - I played softball and basketball since I was old enough to walk - and my parents were my biggest fans. My passion has always been my music (more on that later). In 1995, I suffered the single biggest loss I've ever had to go through ... my father died due to complications from diabetes at the age of 61. He was, and still is, my hero. Please, if you can, donate to this worthy cause. This disease is a killer and they desperately need your help.
In September of 1999 Phil (you know him, the "daikos" in daikosart :)) and I moved to Long Island. The major precursor to this move was my acceptance into Molloy College. After much searching, I finally found the school where I will 1) graduate and 2) realize my dreams. My major is music therapy and I couldn't be happier or prouder about what I'll be doing for the rest of my life. I've already seen what music can do for people and I can't wait to be a part of it!
The most wonderful part of my life is, of course, my relationship with Phil. Together, we are planning our wedding for June 23, 2001 and we're having so much fun doing it! He proposed to me on November 14, 1999 (our two year anniversary) outside on the steps of the building where we first met. Very very sweet! :) We'll keep you posted on details of our wedding as they arise :-)
Okay ... deep breath ... in January of 2000, I made a major lifestyle change and embarked on incredible journey - that of "weight loss". Remarkably, I don't like to talk about it much, but I would like to share my story in the hopes that it may help others. If you're interested, click here. :)

Now back to the rest of the page:
My Music
As I alluded to in my opening paragraph, I'm a singer. There are few things that make me feel better than singing and performing. I love it. Since I've been away from school, there hasn't been much opportunity for me to do that and I've missed it terribly. I used to at least have recitals on a pretty regular basis and, for a while there, I was singing the National Anthem throughout NYS. Even if it is just a two minute song, singing for a few thousand people at a time while standing center stage in a large arena was an absolute thrill ... and something I'd do again in a heartbeat. :D
As I've said, my major ismusic therapy. See, I love helping people and I love to sing and I think that this would be a perfect way to combine the two. For those that don't know, music therapy is a technique being used more and more when working with people with disabilities, children with emotional problems, or the elderly. In 1998, I had the honor of taking care of a wonderful woman named Bette. She was 87 years old, and she had alzheimers ... but when she heard a Dean Martin song her face would light up, and she'd know all the words, and she'd even start dancing. Watching that brought tears to my eyes ... the effect that music can have on people is simply amazing. :)
Fandom
I have learned SO much simply by watching those performers whom I admire. I don't have room to list them all ... but, most significantly, there is Davy Jones and Kenny Loggins.
Davy
Over the course of the last decade or so, I've been fortunate enough to have seen Davy perform solo, with The Monkees, and with last years "Teen Idol Tour" at least fifty times ... probably more. His dedication, his charisma, his stamina are all things that make him by far the best entertainer I have ever seen. Yes, I've heard the same jokes a zillion and one times, but I *never* grow tired of seeing him perform. :)
Kenny
(The only picture I have of Kenny and I is, well, scary actually ;) Hopefully, someday, I'll have a chance to remedy that. :))
I've only had the pleasure of seeing Kenny in concert once, but he was absolutely incredible. The power and the wealth of feeling that Kenny puts into everything he does is simply amazing.
Lest you think I'm incredibly uneducated, I do read as well. The book that has had the most profound impact on my life just happens to have been written by two of my most favorite people, Kenny Loggins and his wife, Julia. "The Unimaginable Life" chronicles the story of Kenny and Julia from the beginning of their relationship through love letters, journals, testimonials, and song. In my opinion, it's a *must have* for anyone contemplating the uncertainty of a loving relationship, or simply for those who want to make an already strong bond even stronger. This book is incredible.
I'm also the list owner of the official Kenny Loggins Mailing List, click here for more information! We'd love to have you join us! :)
My Baby
This is my little girl, Jonah. She's 3 years old and the light of my life. Adorable, ain't she? :)
My Friends
(more pictures coming soon ... I *promise*!!! ... but, for now, it's just Laurie and I ;))
The Love of My Life,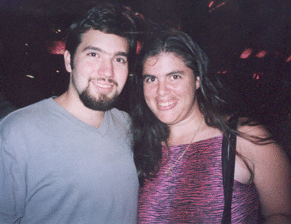 All that talent ... he's cute AND the sweetest man alive. What more could a girl ask for? :D
To talk to me or for comments relating to my page, please click here!
(*This page is a continual work in progress. More pictures and text to be added within the month -mls 12/12/00)